A menu of the first meal ever served aboard the Titanic has fetched £100,000 at auction. The lunch, including consommé mirrette, sweetbreads and spring lamb, was served to officers on the first day of sea trials on 2 April 1912.
It belonged to Second Officer Charles Lightoller, the most senior crew member to survive, who gave it to his wife as he left Southampton on 10 April 1912. It was sold to a British collector at the auction at Henry Aldridge and Son in Devizes, Wiltshire on Saturday.
Andrew Aldridge, from the firm, said: "We are delighted with the results of the auction and think the rarity of the objects is reflected in the prices which illustrates the ongoing fascination with the story of the Titanic."
He said items had been snapped up by collectors in "all four corners of the globe".
On 2 April, on Titanic's first day of sea trials, officers and crew enjoyed their first meal served in the main dining saloon before being joined by the passengers.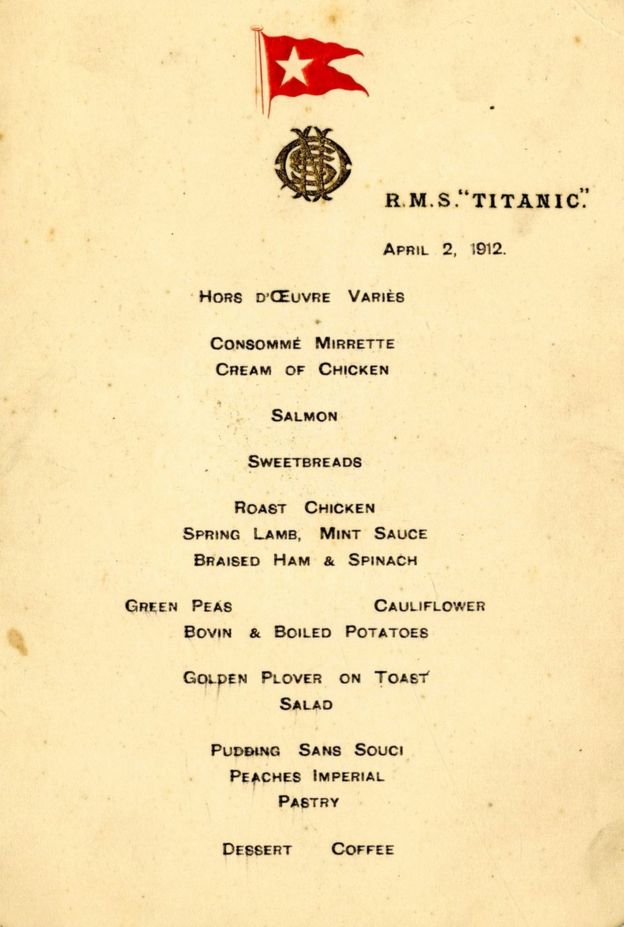 Mr Aldridge said it was believed only one other example of a 2 April menu had survived, which belonged to Titanic's Fifth Officer Harold Lowe. "He wrote a notation on the bottom 'this is first meal ever served on board' however the bottom of the Lowe menu was removed," he said.
"So this [the Charles Lightoller menu] is believed to be the only complete example and is one of the most important examples of its type in existence today."
The Lowe menu sold at auction for £28,000 in 2004.